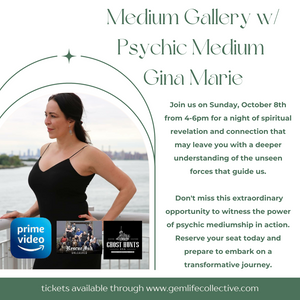 "An Evening of Spiritual Connection"
 Join us for an enchanting and enlightening evening as we gather to explore the realms of the unseen, connect with departed loved ones, and tap into the mysteries of the spirit world. Our gifted psychic medium is ready to guide you on a profound journey of discovery and insight.
Event Details:
Date:  Sunday October 8th, 2023
Time: 4-6pm
Location: Gem Pitman, 5 S. Broadway
Experience the Extraordinary: Prepare to be amazed as our renowned psychic medium channels messages from the spirit world. Witness firsthand the connections, validations, and healing that can only be found in the presence of a true spiritual guide. This gallery event is designed to uplift, inspire, and offer a unique opportunity for personal growth.
What to Expect:
Messages from the Beyond: Our psychic medium will connect with spirits to deliver messages of love, guidance, and closure from the other side.
Interactive Readings: Select attendees may have the chance to receive personal readings, so come with an open heart and mind.
Q&A Session: Ask questions about the spiritual realm, mediumship, and the afterlife during our informative Q&A segment.
Community: Connect with like-minded individuals who share your interest in the mystical and metaphysical.
Join us for a night of spiritual revelation and connection that may leave you with a deeper understanding of the unseen forces that guide us. Don't miss this extraordinary opportunity to witness the power of psychic mediumship in action. Reserve your seat today and prepare to embark on a transformative journey
**All tickets are non-refundable**