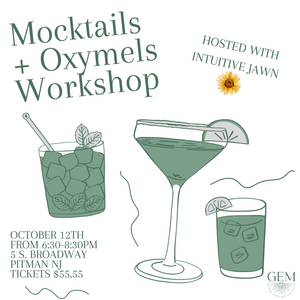 Mocktails & Oxymels Workshop!

Explore the world of folk medicine & herbalism with Intuitive Jawn on Thursday October 12th from 6:30-8:30pm. 

In this fun & engaging workshop, we will investigate a form of folk-medicine making by creating an oxymel- a sweetened vinegar that can be used to enhance your cooking and booze-free bevs!

Then, in the spirit of all things Gem Life, we will use a pre-prepared oxymel to create two fun mocktails so you have inspo on how to use your oxymel at home!

Come learn about the beauty of plant medicine & have some fun making mocktails with us!
After class we will enjoy our drinks, music, shopping and Intuitive Jawn will be offering readings for a discounted rate. 

Cheers to Conscious Cocktails and Mindful Moments.