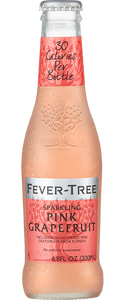 Made with real juice from handpicked pink Florida grapefruits. An impressive upfront burst of fresh grapefruit carefully balanced with soft pink grapefruit floral notes. The perfect levels of carbonation and real juice content provide a rounded base which complements the best premium tequilas and vodkas for a refreshing, light spritz.
TASTE
We use naturally sourced ingredients to achieve the perfectly balanced, bitter-yet-sweet flavor with fresh and floral notes, showcasing the very best that Florida pink grapefruit has to offer.
KEY INGREDIENTS
Our recipe is made with real juice including from hand-picked Florida grapefruits. There is a reason why Florida grapefruits are known worldwide as a representation of the perfect pink grapefruit. The copious amounts of year-round sun combine harmoniously with optimal amounts of precipitation and the perfect soil for irrigation, allowing the grapefruits grown in this region to develop the perfect bitter to sweet ratio.