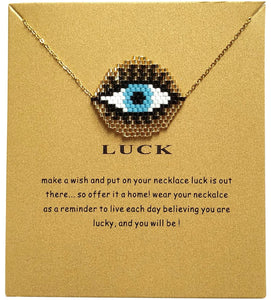 Lucky Evil Eye Necklace 
The Evil Eye necklace size

(

adjustable

):

38-42cm(15in-16.5in).100% original MIYUKI seed beads import from Japan.100% Handmade with love.



The evil eye is a curse or legend believed to be cast by a malevolent glare, usually given to a person when they are unaware. Many cultures believe that receiving the evil eye will cause misfortune or injury. Talismans created to protect against the evil eye are also frequently called "evil eyes"
These seed beads necklace are beautiful jewelry and a complete set. So you can give it as gifts for your friends, lovers. Goes well with your dresses, tops, jeans, t-shirt, tunics. And you can also use it as a car hanging ,to bless the safety of your travel,or to hang it in your house as a hanging decoration to protect your family's health and auspiciousness.