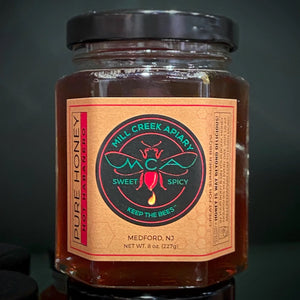 Our flavorful Wildflower Honey meets habanero peppers in our Hot Habanero Infused Honey, and it packs a flavorful punch! Habaneros range from 100,000 to 350,000 on the Scoville scale, so heat levels may vary, but it is certainly on the hotter side, regardless! That's where our honey comes in to round it out- at first taste you get the sweet, zingy flavor of the pepper while the heat slowly builds.
Habaneros are not only hot in flavor, but high in antioxidant, anti-inflammatory, and antimicrobial properties, and the hotter it is, the more benefits it's providing! So enjoy the heat of Hot Habanero Infused Honey in marinades, glazes, and dressings, or make barbeque sauce or a hot honey mustard. Pair with meat and vegetables, or if you're feeling daring, with chocolate! It's surprisingly delicious drizzled over ice cream or in hot chocolate.
Our honey is 100% pure, natural, local, and raw.
Ingredients: Honey, Organic Habanero Pepper