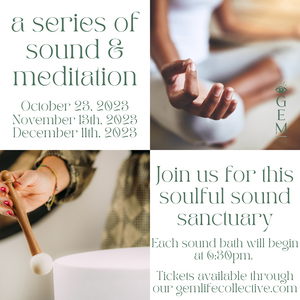 Introducing our "Sound & Meditation Series":
Join us for an evening of profound relaxation and inner harmony. We'll commence the night by gently unwinding the mind with a guided meditation led by Drew Davis. As we become fully grounded, Trace from Intuitive Holistix will take us on a mesmerizing sonic journey.
Prepare to immerse yourself in a transformative, full-body listening experience carefully designed to harness the therapeutic and rejuvenating power of sound. This session is dedicated to nurturing your mind and body, allowing you to embrace deep tranquility and restoration.
*Please bring a yoga mat and any other items for your comfort (eye pillow, pillow, blanket, or bolster). Any items brought with you during this time will also be charged with Reiki energy (crystal, pendants, cards, etc).
Start time: 6:30pm
Location: 5 S. Broadway Pitman NJ 
Cost: $33.33 
**all tickets are non-refundable.