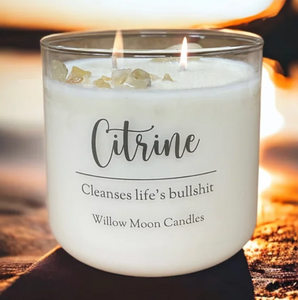 Citrine~ Cleanses life's bullshit
Citrine stone, sprinkled with Citrine chips & fairy dust.

When this candle is lit it releases positive energy throughout. The crystal may fall toward the wick as it burns so we suggest removing the gem for a proper burn.
Gemstone may vary between rough or tumbled depending on what is in stock. You can pick any scent we have on our website, just choose the "I'm picking my own scent" option and put it in the note box.
Citrine is an often used to in conjunction with feng shui to welcome abundance, prosperity, and positivity. It also helps motivate you to get things moving. FYI- Natural citrine is quite rare, and most citrine is actually amethyst that has been heat-treated to alter its color. It has the same beautiful energy in either form.
CARE:
Some gems may fall towards wick once a large melt pool starts, if this happens just push it back towards the edge so it can burn properly or remove and enjoy your stone sooner. candle is made with pure soy wax and every stone in our candles have been cleansed and charged in the bath of a vibrant full moon for maximum energy.

Once your candle is burned down your stone can be washed with soap and warm water to keep.