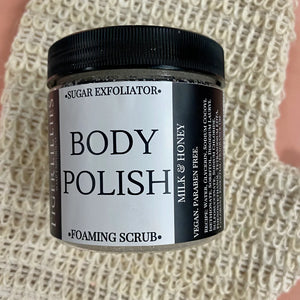 You'll find our very FAVORITE Milk & Honey aroma very upscale with subtle nodes of raspberry and strawberry with fluffy cotton candy and carmelized sugar, adding the perfect kiss of sweetness.  A fresh & subtle sweetness to lather up! Our honeycomb design is irresistible and is sure to be a bath-time favorite! Made with local Elzner Honey! 

...milk and honey, with subtle nodes of cotton candy, raspberry, strawberry and a drizzle of caramelized sugar...
This whipped foaming sugar scrub is gentle but effective at scrubbing away dead skin, cleansing and moisturizing your skin all at the same time.
Our scrubs creates the perfect polish and glow without any oily residue, the foaming soap base helps to cleanse and moisturize your skin! We use fine sugar granules to exfoliate that dry stubborn skin then polish it with our frosting style foaming body polish! Scrub up and glow!
Recipe: Water, Glycerin, Sodium Cocoyl Isethionate, Sorbitol, Disodium Lauryl Sulfosuccinate, Sodium Chloride, Phenoxyethanol, Tetrasodium EDTA, Olive Oil, Colorant, Essential/Fragrance Oil
PARABEN FREE