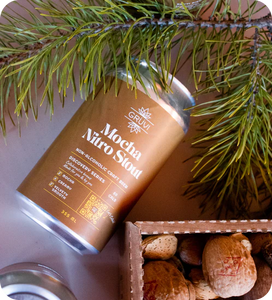 The first beer in our Discovery Series, the Mocha Nitro Stout is a great example of what it means to be Grüvi.
This creamy non-alcoholic brew is a smooth yet full-bodied ale with notes of coffee and chocolate. The addition of nitrogen makes tiny bubbles and helps us create an ultra-creamy beer that pours like a dream. 
The result? A sessional stout that'll have you feeling the hangover-free buzz, no alcohol (or caffeine) required!
Our Discovery Series is a collaborative collection of bevs that are made for you and by you. By creating an open feedback loop with our community, we are able to blaze new trails together and develop even better brews.
After a LOT of experimentation, we developed the very first alcohol-free Nitro beer on the market. We are super excited for you to get sippin' and can't wait to hear your input.