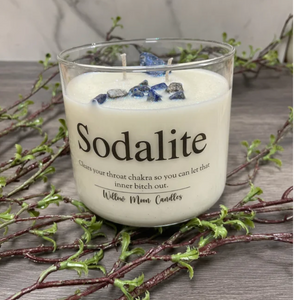 Clears your throat chakra so you can let that inner bitch out.
Light this when you need to tell it like it is. It's not you, it's them.

Sodalite, sprinkled with Sodalite chips & fairy dust.

When this candle is lit it releases positive energy throughout. The crystal may fall toward the wick as it burns so we suggest removing the gem for a proper burn.
Gemstone may vary between rough or tumbled depending on what is in stock.
I hope you feel the loving light that is put into your candle and find comfort when burning it.
CARE:
Some gems may fall towards wick once a large melt pool starts, if this happens just push it back towards the edge so it can burn properly or remove and enjoy your stone sooner. candle is made with pure soy wax and every stone in our candles have been cleansed and charged in the bath of a vibrant full moon for maximum energy.

Once your candle is burned down your stone can be washed with soap and warm water to keep.